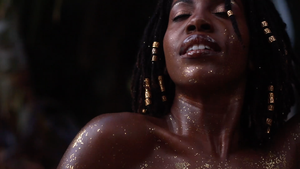 Growing up on a small island of West Indian traditions, Keba's earliest influences included Calypso and Soca music as well as her mother who was a piano enthusiast. Keba also grew up to the sound of Stevie Wonder, The Jackson Five, The Supremes and music from 50's American movies. Discovering her own voice became a way for her to connect with the world around her and cultivate self confidence.
_________________________________________________________________________

Like many immigrant families, the pursuit of career opportunities in America signaled a new beginning and shift in identity. For Keba that meant completing a degree in Chemistry and pursuing a stable career path. But as her passion for songwriting and music grew, she decided to redirect her path and ignore the expectations of those who told her she was too inexperienced and impractical to have a full-time music career. 
In 2013, she debuted Wildfire, her first studio album, which she composed in collaboration with producer Erik Nunez and released under their independent label, Labrat Music. Since then, she has earned international recognition for her original songs at several songwriting competitions.  Her powerful vocals and electrifying stage presence deliver live shows that move audiences to their feet. 
Keba made her international stage debut as an opening act for Jill Scott and Kool & the Gang at the 2015 Tobago Jazz Experience. In 2016, Keba embarked on a European tour of Portugal, France, England and Spain. In 2018, she released the original EP, FILMSTRIP to mark the eve of her transformation from a girl into a woman. As Keba evolves, so does her unfiltered honesty about the complexities and power of  being a woman. As an independent artist determined to blaze her own trail, Keba's songs inspire others to express themselves and make their own dreams come true.